Product Description
UniFi LR 3 pack
The UniFi AP-LR has a longer range than the base model UAP with a range of up to 183m (600 ft). It also offers 802.11n MIMO, with speeds of up to 300 Mbps.
The UniFi LR 3 pack is a perfect device to use when you're running a small office or home office (SOHO). It is very easy to manage as it doesn't require any kind of switch or hardware controller for your WiFi system. Because it's long range, you'll be able to cover not only certain portions of the house but even all of it. The pack already includes 3 units that ensure you can stay connected online no matter where you are and regardless of the barrier.
Longer Range
The UniFi UAP-LR is identical in looks to the standard UAP but provides a wider coverage footprint of 183m. The marginally higher power consumption (6W compared to 4W) is attributed to its +27dBm maximum output compared to +20dBm on the standard model. Please note that while it covers a wider area this unit is still only limited to ~100 concurrent subscribers. If you need to support a larger number of users several standard access points should be used to provide smaller coverage cells.
Expandable
Unlimited scalability. Build wireless networks as small or big as needed. Start with one and expand to thousands while maintaining a single unified management system.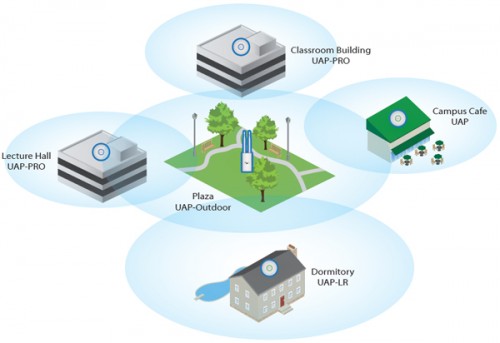 Comments
comments