Product Description
UniFi AP
The UniFi AP uses a clean industrial design that seamlessly blends into typical environments. The UniFi AP's are feature the latest in WiFi 802.11n MIMO technology. All accessories are included to mount the devices either on the wall or ceilings. Also included is Power Over Ethernet (POE) functionality which allows both power and data to be carried over a single Ethernet cable to the device. At the front-center of the device is a status LED ring which can provide the administrator with location tracking and alerts for each device.
Our standard model 802.11n MIMO UniFi AP. Capable of speeds up to 300 Mbps with a range of up to 400 ft. UniFi is a revolutionary WiFi system which combines carrier class performance, unlimited scalability and a virtual management controller.
Product Views
Features
Deployment
With the UniFi Controller software running in a NOC or in the cloud, administrators can extend and centrally manage wide areas of indoor and outdoor coverage using any combination of UniFi AP devices.
Below are some examples of how UniFi APs can be deployed.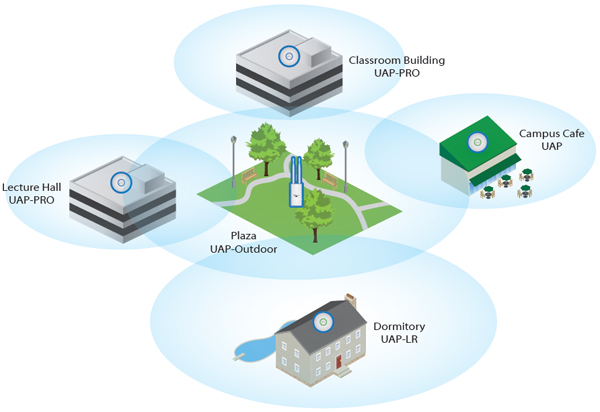 Comments
comments