HR-DR3000-2U NVR Network Video Recorder
MatriVideo™ HR-DR3000-2U Hybrid NVR are designed for the various needs of the digital video surveillance market. With high video image resolution, seamlessly integrated mass storage, and alarm recording features, HR-DR3000-2U Hybrid NVR deliver the power of high performance to security savvy professionals and meet the critical security requirements of small to large installations. The HR-DR3000-2U Series is the ideal selection for users in the retail, banking, and manufacturing industries.
With lower total cost of ownership, HR-DR3000-2U Hybrid NVR increase overall system availability and accessibility by using enhanced hardware design and user-friendly features.
The nvr HR-DR3000 Series supports optional hybrid configuration which allows customers to use both analog and digital/IP cameras of various video formats: MJPEG, MPEG-4, and H.264. MatriVideo hybrid DVRs can record analog camera video alongside IP camera video.
MatriVideo™ DVRs provide CIF and 4CIF image resolutions. By adapting the most advanced hardware compression technology, H.264 (MPEG-4 Part 10), MatriVideo DVRs produce image sizes 40% smaller than those that adapt MPEG-4.
The system is built upon a stable Linux operating system and the whole system is placed on one single flash disk.
The system is built upon a stable Linux operating system and the whole system is placed on one single flash disk.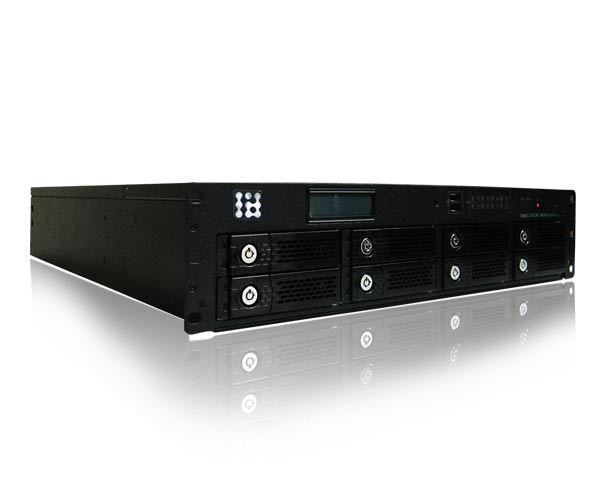 HR-DR3000-2U Hybrid NVR s allow dynamic recording configurations of the highest quality frame rates for live, continuous and scheduled viewing, and motion and alarm triggered recording. This not only increases the data storage utilization, but also facilitates quick and instant event searching.
Its open system architecture allows MatriVideo™ to integrate with various third party solutions, such as digital cameras, POS, access control, fire alarm, and burglar alarm systems. MatriVideo™ DVRs offer the most intelligent and comprehensive video search tools, allowing users to retrieve the desired video through a few simple clicks. with watermark protection.
Complete system to provide high-resolution, long term digital video storage and IP based CCTV solution on a scalable and reliable platform.
HR-DR3000-2U Hybrid NVR a complete solution for digital video surveillance. It is a platform that incorporates the legacy analog CCTV system and new IP-based digital surveillance system with a hybrid configuration, distributed enterprise architecture and centralized management.
HR-DR3000-2U Hybrid NVR is an open platform that adopts the latest IT technology yet provides easy installation and configuration for security professionals. It is designed with flexibility and scalability for enterprise video management.
HR-DR3000-2U Hybrid NVR answers the need for larger storage capacity, networkable components, smarter image searching and playback, high image resolution and easier camera relocation. It provides a total solution that meets the emerging and diverse demands of the security industry.
Product Features:
Comments
comments