Outdoor HD Wireless IP Camera
The Foscam FI9805W Wireless IP Camera is an HD weatherproof IP camera. Features improved low light & night vision performance, wider viewing angle with 4mm / 70° lens, Updated web interface with classic and new features, Enhanced MAC as well as Safari/Chrome/Firefox compatibility, Multi-device viewing compatible with all Foscam cameras, Free DDNS service via MyFoscam.org.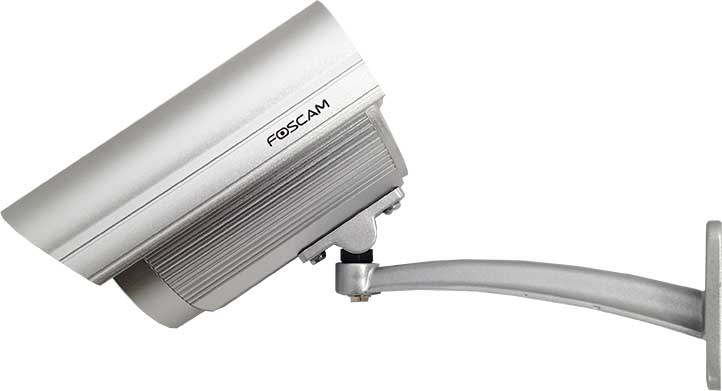 1
Display Resolution 1280×960 (1.3M Pixels).
Min. Illumination 0.06 Lux (Min.Illumination with IR on:0Lux).
2
focal length f:4mm.
Aperture F2.4.
Angle of View 70°.
3
Resolution 1280×960, VGA(640×480), QVGA(320×240).
Stream triple stream.
In addition the hd wireless IP camera FI9805W boast of its 960p HD video quality (1280×960) as well its H.264 video compression allowing for extremely smooth video transmission with minimal bandwidth usage. Furthermore, due to the compact file sizes generated by H.264 video compression it has the flexibility to conserve remarkable hard drive space while doing manual recording.
The Foscam FI9805W features 960p HD quality video, H.264 video compression, Wireless-N capability, remote internet viewing, motion detection, and night vision. In addition, it is smartphone compatible (Iphone, Android & Blackberry) as well as viewable over the internet network using the standard web browsers (IE, Firefox, Chrome, Safari). The camera functions well as part of a home or office security system with remote internet monitoring ability.

Comments
comments