Foscam FI8918W Wireless IP Cam
All the functionality of an expensive camera packed with the affordability of FOSCAM wireless IP cameras, the wireless security camera has infrared LEDs to enable night vision as well as digital zoom and pan and tilt capabilities.
WIRELESS IP CAM FEATURES
These features allow users to optimize the positioning and viewpoint of the camera for the perfect viewing angle. The IP camera has a two-way audio with a built-in microphone and built-in speaker. Unbelievable! The microphone allows audio to be recorded on video footage, while the speaker enables a user to speak directly through the camera from a remote computer or device with a microphone.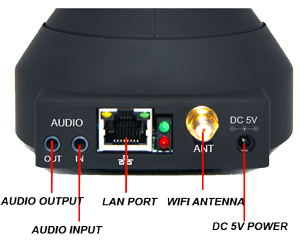 The IP camera has a built-in stand so it can easily be placed on a shelf, table top or any other flat, solid surface. The IP camera is designed for the best functionality and has a maximum resolution of 640×480 and an impressive field of view (or the area visible through the camera lens) of 67 degrees.
Another beneficial feature of the FI8918W Wireless IP camera is its notifications, When the FI8918W Wireless IP Camera's motion detector is triggered, the system can be configured to automatically send an email alert with a picture. This way, users can be informed instantly if anything significant or critical occurs within the area being monitored
One of the biggest advantages of the FI8918W Wireless IP Camera is its various management capabilities, When viewing live feeds through a remote web browser, users can control the camera by panning or tilting, all through the system's graphical interface.
Users can also remotely change the camera's resolution and video effects such as brightness and contrast. The FI8918W IP camera  also boasts multi-camera expandability allowing up to eight more Foscam wireless IP cameras to be used simultaneously and managed through the remote interface. These foscam wireless IP camera also support multi-user access, which can be managed and password-protected by administrative users.

Comments
comments