6 Channel Outdoor D1 CCTV Package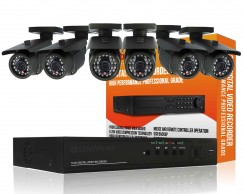 1
8 Channel H.264 Network CCTV DVR SN3-6808VH
CCTV DVR SN3-6808VH has H.264 standard compression format with efficient processing and clear video feeds.
2
Weatherproof IR CCTV Camera EN-CI20K-38 × 6
Weatherproof IR CCTV Camera with a Sony® Super HAD II Color CCD.  24 PCs ¢5 mm IR-LED with IR Range of 20 Meters,  Convenient 3-Axis Bracket, Easy For Installation and a Built-in 3.6 mm Board Lens.
₱1,793.00 / pc.
Day and night functionality. Packed with IR Led's that gives this 6 Channel Outdoor D1 CCTV Package the ability of a night vision with a range of 20 meters.

Automatic Electronic Shutter

In a progressive scan CCTV with CMOS or CCD with a built-in electronic shutter, the entire image is reset before integration to remove any residual signal in the photo diodes.

The analog cameras ability to correct or improves the color of a scene by manipulating the intensity of the basic RGB color elements. Its purpose is to make the scene more natural and appealing to viewers.

Complies with the essential requirements of the applicable European laws or directives with respect to safety, health, environment and consumer protection.

The 3.6 millimeter Lens gives this 6 Channel Outdoor D1 CCTV Package a 70° wide view angle. best used for monitoring offices, retail stores and homes.

Automated Back Light Compensation

Differing light circumstances aren't a problem as the automatic back light compensation (BLC) takes care of contrasting light and adjusts the camera's electronic shutter accordingly.

Internal crystal to provide sync pulses without needing reference from any external device.

This is the most critical feature that a security system should be capable. Full D1! it represents 720×480 pixels. This DVR Recorder records all 8 channels at 30 frames per second at Full D1 720×480 pixels each!. it will not matter how clear your camera if you record at CIF it will be rendered useless. pick the FULL D1 DVR Recorder!

This DVR Recorder features a built-in scheduler which gives you the ability to pick the time and day for the DVR to record.

Built in motion sensor that sends email alerts by sending detected images also automatically uploads via FTP. This built-in motion sensor of the IP camera also has the masking feature in which the user can mask certain areas.

Two USB ports and 1 USB 2.0 this can be used as a mouse port or used for a quick clip back up utility.

This DVR gives you the ability to monitor your premises anytime, anywhere using mobile phones, Compatible with android, iPhones, Black Berry, and even Symbian. use your phone's browser or better yet download the foscam app. it is avaialble in its respected App store for free.

This DVR 4 channel CCTV digital video recorder Camera adopts a high performance media processor, single SOC chip (built-in ARM+DSP) As a result, it is capable of H.264 video compression allowing for extremely smooth video transmission with minimal bandwidth consumption.

No need to worry about expensive static ip address. Lifetime free built in DDNS domain address is embedded in the unit for your dynamic internet ip address. FREE! Forever!

Supports 10x Digital zoom. it is a method of narrowing or zooming in on the apparent angle of view of a digital photographic or video image.
Comments
comments