CMOS Sony® 1000 TV Lines
The particular DE20-CM138-ICR CMOS Sony® 1000 TV Lines Indoor Dome Camera from Sentry comes with a 1000 TV Lines resolution camera with an active -pixel section of 720P within the ⅓" CMOS picture sensor. It also makes use of a 3. 6mm f/2 lens using a wide 72° field of view to capture events. Additionally, it could record pictures at night with 24 infrared LEDs at the range of 20 meters.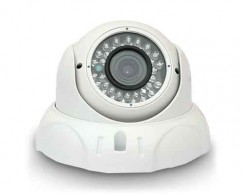 The DE20-CM138-ICR CMOS Sony® 1000 TV Lines camera features an IR cut filter to obtain accurate color reproduction throughout the day and at night. automatic settings are applied for sharp capture from nighttime. The camera furthermore has Digital Noise Decrease, Automatic White Balance, and Auto Gain Control to ensure quality images and arrives with cables and installing hardware.
Comments
comments