Single Channel Active Video Balun EN-301T
EN-301T is single channel active video balun UTP transmitter which used mainly for security, education as well as other fields. It uses Cat5 or Cat5e as a transmission medium. It may real-time transmit 1800 meters color or 2400 meters gray scale base band video signal if working together with active receivers. it's going to save your self wiring costs, simplify your wiring works.
active video balun Transmission distance    0~1800m.
Signal Type    Video(PAL, NTSC, SECAM as well as other base band video signal).
Power Input 12~24 DC.
Connector    Coaxial BNC(female), twisted-pair terminal, DC 5. 5 connector
Surge Protection 6000V 10uS*700uS IEC61000-4-5.
Frequency response    DC-8MHz.
CMRR    0 to 8MHz 60dB (typical).
Impedance    Coax (BNC female) 75 Ohm; UTP (unshielded twisted pair) 100 ohms.
Cable Type    Cat5 or Cat5e unshielded twisted pair.
Cable Impedance    100 ± 20 ohms.
Distributed capacitance    less than 62pF/m.
DC loop resistance    18 Ohm/100m.
Operating temperature    -20oC~70oC.
Relative Humidity    0~95%(non-condensing).
Storage temperature    -40oC~150oC.
Dimension    81mm x 82mm x 29mm.
Net Weight    80g.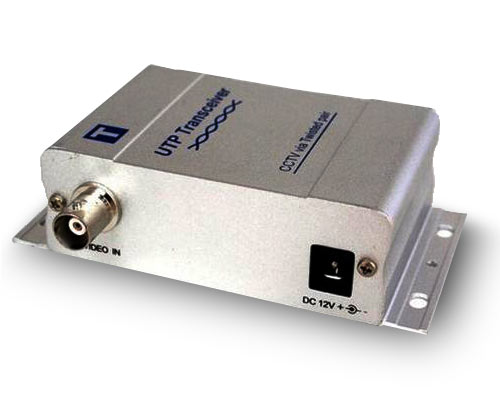 Comments
comments