Passive Video Balun WBT-1CHVB01 set is designed to transmit video signal from a single source using a twisted-pair cable. Each of the video transformers (baluns) has a flexible cable terminated with BNC connector, which ensures easy connection even to closely spaced BNC sockets.
One of the devices matches the 75 ohm impedance of the unbalanced source to the impedance of the balanced line usually formed by a pair of UTP cable, the second performs the opposite function. The video signal can be transmitted over a distance up to 400 m (UTP CAT5e).
The installer should pay attention to connecting the appropriate wires to the correct terminals: (+) to (+) and (-) to (-). Improper connection will cause interference.
Maximum Output: 1.1Vp-p
Loss Ratio: >2dB
Rejection Ratio: <15dB
Interference: >40dB
Transmission Distance: 400 meters
BNC Resistance: 75ohm
UTP Resistance: 100ohm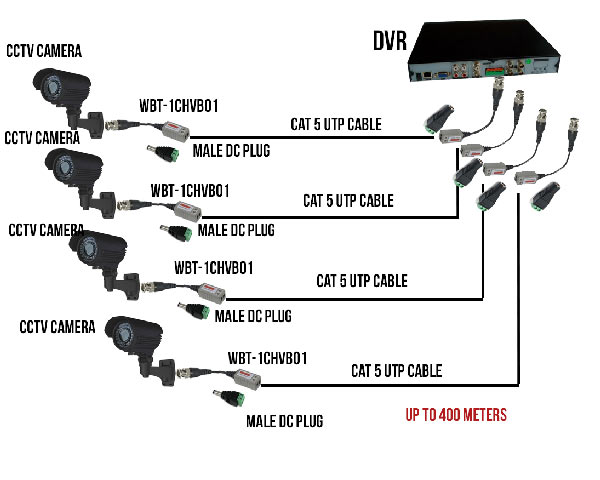 Easy installation, using the standard UTP cable system
Support all video device, such as camera, monitor, DVR card and recorder etc.
Lower budget, the price of CAT 5 cable is much less than co-axial cable
Using UTP cable ( CAT 5, RJ45) to transmit video, audio signal instead of co-axial
Comments
comments