The T-60 Access Control and  Time attendace Biometric line of physical access controls come equipped with our state of the art fingerprint sensor that has been developed and perfected over the last 9 years using our self owned new generation BioNano fingerprint algorithm. Our unique function recreates a template to heal broken fingerprint lines allowing the sensor to update the best image for the user every scan, making it possible to verify fingerprints quickly and more accurately. Whether being used to access a building, secure restricted locations within, or for time and attendance management, biometric authentication technology has come a long way, these advances in biometrics have now made this surprisingly affordable and popular.
Addressing the multitude of threats to an organization's physical and digital assets has become one of the most important challenges facing governments and enterprises today. The Anviz T60 is a standalone or networked combined biometric access control device with fingerprint and smart card technology, and is capable of restricting who is an authorized user and who is not, giving a company complete control over who goes when and where at all times. The Anviz T60 can integrate with existing physical access systems and provides an enhanced layer of security through the use of biometric technology. The T60 Biometric Access Control requires no server or software. Everything is embedded in the device, making installation as easy as running wire.
The Anviz T60 is compatible with all standard format access control system via 26bit or 37bit Wiegand communication. Seamless performance based on true identity to the access control system.
Easy On Sceen User Management

The T60 comes standard with a large, high-resolution LCD display & easy on screen programming for user management and system settings configuration.
Optional Network TCP/IP Connection

The T60 network TCP/IP communication based computing structure of this modern access control system assures real time and secure system operation.
Various Identification Methods
The Anviz T60 has various identification methods. It can programmed as fingerprint only, smart card only, & pin number only or for higher level of security with fingerprint and smart card combined.
Easy to Integrate with your Old System
The Anviz T60 can easily integrate with your old system. It is smaller than the older type access control devices and it gives a modern & sleek apparance where ever it is installed.
Time Zone Access Control
The T60 has time zone restriction management. With this feature users can be programmed with unique settings to allow them to open only the doors assigned by the software at specific times.
Key Features
Optional Secure I/O SC021 – Higher Level of Security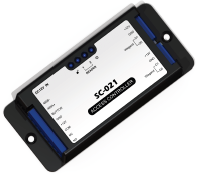 The SC021 is a separate door controller and I/O expansion. Along with encrypted Wiegang communication with the Anviz T50, it provides higher level or security and cost effictive access control system for small to medium sized office.
Simple to Configure Door Opening Privileges
No Software Required
Support 12V Power Supply for Electronic Locks
Dry Contact Signal Output
RS232 / RS455 Communication
Advantages of Buying T-60 Access Control and Time Attendance
1 Year Warranty
In Stock & Ready to Ship
Easy Installation & Setup Instructions
What is Included
1 T60 Fingerprint Access Control Device
1 Network TCP/IP Connectivity
1 Mini USB Connection Cable
1 Access Control Software CD
1 Installation Manual
| | |
| --- | --- |
| Processor | TI high speed CPU |
| Algorithm | Bio NANO V10 |
| Sensor | AFOS300 Optical Sensor |
| Scan Area | 22mm*18mm |
| Resolution | 500 DPI |
| LCD | 128*64 White LCD |
| Fingerprint Capacity | 2000 |
| Log Capacity | 50000 |
| Identification Mode | FP, Card, ID+FP, ID+PW, PW + Card, FP + Card |
| Identification Time | <0.5 Sec |
| FRR | 0.001% |
| FAR | 0.00001% |
| Communication Interface | RS485, USB plug &play, TCP/IP, Wigand In & Out |
| Card Reader Module | Optional 125KHZ EM RFID, 13.56MHZ Mifare and 125KHZ HID |
| Name Display | yes |
| Fingerprint Image Display | yes |
| Voice Prompt | yes |
| Status | 16 |
| Self-defined Status | 16 |
| Real-time Transfer | yes |
Comments
comments